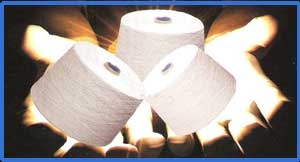 BST Textile Mills Pvt. Ltd. is a 100% Cotton Spinning Unit promoted by chief promoters Mr. Mukesh Tyagi and Mr. Pawan Tyagi, both Textile Technocrats with specialization in Spinning. Having worked at shop floor in various departments of spinning such as Production, Machine Maintenance and Sales/ Marketing, it is their all round experience in textiles which gives us an edge over our competitors. The company is emerging fast on the global Horizon and has significant growth plans for the future.

The Promoter's TOTALLY PROFESSIONAL APPROACH in all the key areas such as day-to-day production process controls, maintenance, manpower, sales and marketing makes a big contribution towards achieving the most cost efficient quality product. The project also benefits from promoter's vast experience of domestic and international marketing. Mr. Mukesh has been involved in domestic and international marketing of cotton, poly cotton, poly viscose and 100 % polyester ring spun yarns for over two decades.

The company also has an office in Europe located at Leicester (United Kingdom) which is managed by Mr. Pawan Tyagi. This places us in a very close proximity of our EU customers and gives them a COMPLETE PEACE OF MIND in all vital areas such as fast and effective communication, personal after sales support and quick technical assistance.

The company's workforce is an ideal mix of youth and experience where each individual is groomed to work as a professional with total commitment to achieve common goal – A QUALITY PRODUCT DELIVERED IN TIME TO OUR CUSTOMER'S SATISFACTION. The management ensures a work friendly environment in all areas to get each individual, work as a team which offers excellent opportunities and a progressive career to young and dynamic professionals.